University of Cambridge
Having worked with the University of Cambridge Psychometric Centre on various projects, they asked us to design & build the standalone site for Apply Magic Sauce, a service that helps to personalise the internet and give back control to the person rather than a faceless algorithm.
The University of Cambridge Psychometric Centre believes in a free and open internet, and ensure that Apply Magic Sauce is entirely open source and free. Apply Magic Sauce can be a democratising and liberating tool that humanises your online profile.
All are encouraged by the University of Cambridge Psychometric Centre to follow their ethical principles:
Privacy: nobody should have predictions made about them without their prior informed consent
Transparency: the results of any predictions should be shared with individuals in a clear and understandable format
Relevance: predictions should be used to improve service quality and provide a clear benefit to users
Client :

University of Cambridge

Website :

applymagicsauce.com

Issues :

Online Privacy, Internet Openness

Services Offered :

Website Design, Website Development
The Challenge
How to communicate complex ideas around personality prediction & explain how it is happening every time we go on a website.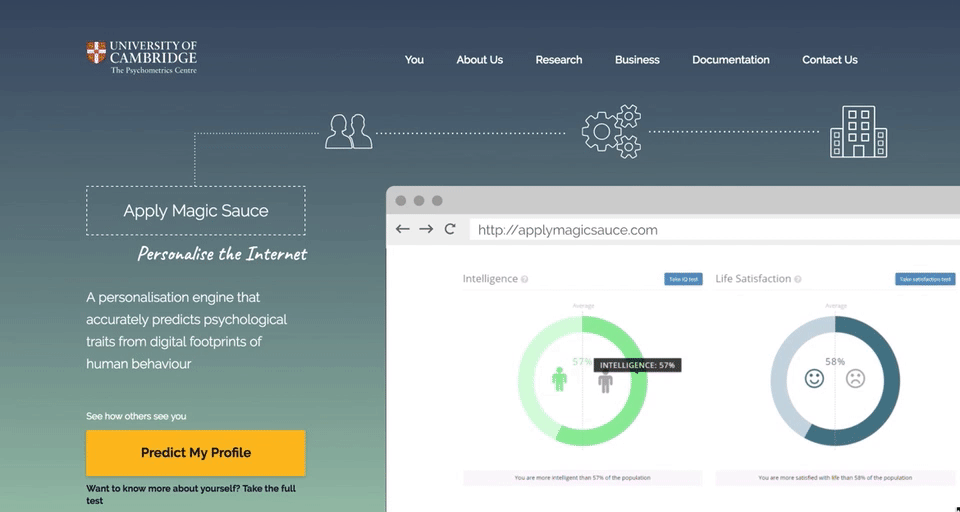 Visualising Data Collection
The internet is confusing, even for those who work with it day in, day out. So helping people to understand how Apply Magic Sauce works, and why it matters, was one of the main drivers in coming up with the new website
Putting a human face to the engine
With so many techy based products & businesses, it can be hard to find out who's actually behind it. We were really lucky to be working with the University of Cambridge Psychometric Centre, who understand the importance of perceptions & relatability - they were actually challenging us to be more human centric.
By adding a fun touch to the site, like using different films & quirky personality types to represent different personalities, or using fun illustrations of the team, we made the whole site less daunting, and more accessible.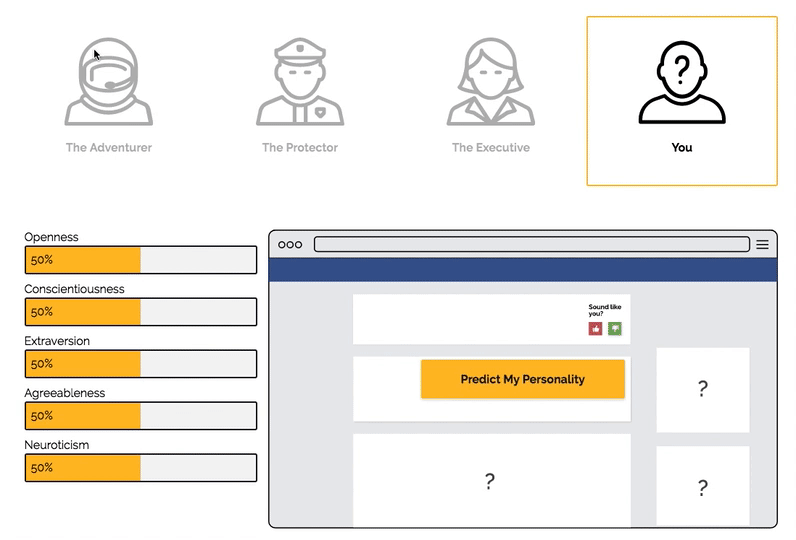 Different Audiences. Different Approaches.
With the University of Cambridge Psychometric Centre needing to reach different audiences with Apply Magic Sauce, they needed to communicate in a way that was optimised for each. Working closely with the Cambridge team, we created three different colour schemes & tones for the different sections.
Checkout some more projects?